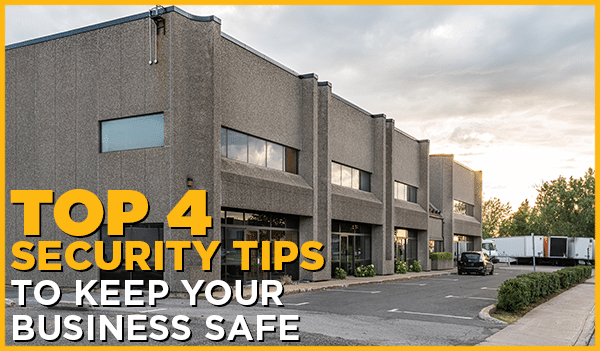 All businesses should be concerned about security, regardless of their size. Having a solid security plan could make or break your business. Especially when it comes to averting disasters like crime, vandalism, fire, extreme weather or other calamities. 
Businesses are 4 times more likely to be burglarized than homes

Employee theft affects 64% of all small business 

The average business can lose 5% of its revenue to fraud
Criminals typically spend time studying targets. They search for vulnerabilities, identifiable assets, and obstacles. Their plan begins with what they readily have access to, typically at the street level. From there, they'll work inward as far as they can go, noting the presence of security systems.
Here are 4 tips every business should consider when developing their security.
1. Secure Your Property From The Outside, Working Inwards
A building with visible layers of security, such as security cameras, access control systems, intrusion detection, security signs & stickers and other forms of security, is a less favorable target than a building without.
2. Get Proper Lighting
While it may seem obvious, proper lighting in and around your facility is important for two reasons:
Lighting is adequate as a deterrent. 

Lighting can provide more effective video/photographic evidence in case a crime is committed.  
Lighting should be a priority outside of your business including parking, alleyways, entry/exit points, loading docks and outside storage areas. 
Lighting should also be considered for the inside of your building. Active interior lights can indicate that workers are present, therefore making the building less attractive to thieves.
3. Get Video Surveillance 
Security cameras should be a part of every security plan. 
Recent advances in technology have made high-resolution video surveillance systems simply too cost-effective not to have them. There was a time when security cameras systems were prohibitively expensive and didn't offer resolutions sufficient to assist law enforcement. Times have changed.
Cameras can both deter crime from happening and capture evidence in the event it does.
4. Have a Plan
Business size affects the complexity of an emergency plan, but not whether or not you need one. 
Every workplace needs a security and emergency plan. A plan helps protect company assets and helps keep employees and visitors safe. The plan must work for your business, should be in place, understood and reviewed regularly with the entire staff. 
The security plan may include:
Who has access to what systems, equipment & resources 

When & what doors, windows, access points are to be locked or unlocked

Reporting & replacing lost or stolen keys or access cards  

Procedures for visitors, customers, vendors and other 3rd parties

Procedures in the case of a power outage, break-in, or other emergency
Employees should be trained on their responsibilities and the plan should be easily accessible at any time or place. Scheduled reviews of the plan should be set up on a timetable that makes sense for your organization. 
As businesses grow, pivot, merge or otherwise change so too do their vulnerabilities and risks. Technology also changes. New solutions emerge that may be more cost-effective options to resolve your unique security challenges. 
Physical security threats can interrupt business operations for any organization. Making an investment in basic systems in combination with a clear strategy to mitigate these scenarios will minimize risk and provide both employers and employees with a peace of mind.
California Commercial Security 
Integrating San Diego Security Systems for over 25 years. Providing customized, unique solutions specific to each commercial client, for any size needed. From Access Control to Video Surveillance and everything in between. Serving a variety of verticals and DEA & FDA compliant for health & life science applications.