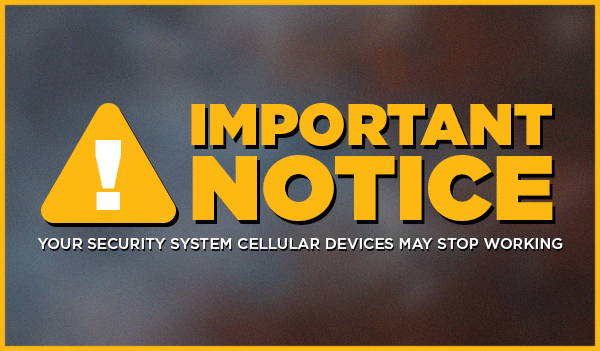 IMPORTANT NOTICE: ATT has scheduled 3G communications to end on February 22nd, 2022.
Your Fire and Burglar Alarm system needs to be upgraded to avoid disconnection. 
Although your alarm system's 3G communicator may be working perfectly right now, you should be aware that "the end is near" for that technology.. Most fire, life safety & burglar alarm systems depend on cellular network communications equipment using 3G technology. Telecom carriers have announced the "end of service" dates for their 3G infrastructure to begin on February 22nd, 2022.
Although frustrating, the reality is that upgrades to current technology are ongoing and inevitable. As each "next generation" of technology is introduced (like 5G, for example), the older technologies are necessarily phased out. The current transition to 5G/LTE (Long Term Evolution) means obsolete 3G services will be eliminated. And they will be terminated SOON.
The transition To 4G/LTE/5G Has Begun. 
This Change affects many security products such as:
Fire Alarm Systems

Burglar Alarm Systems

Telephone Entry Systems 

Security cameras
and more! 
Be ProActive! To avoid downtime and potentially catastrophic communication failures, contact California Commercial Security (CCS) now to learn what is needed to "upgrade" your system. Proceeding with this communication upgrade ensures your cellular service will be uninterrupted and your systems will continue operating as intended.. 
Our Expertise. Your Peace of Mind. CCS
Call (800) 286-2555 and learn how your unique situation will adapt to the 3G Sunset. You'll remain secure with CCS's commitment to professionalism.