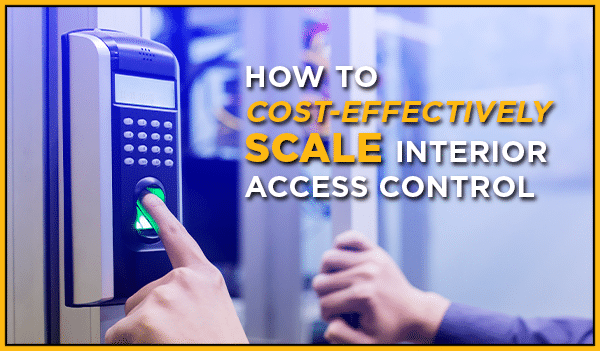 One of the top security concerns for many organizations is Access Control. Granting access into a building to the right people, and keeping the wrong ones out, is the first challenge. The second challenge is to limit that same user from certain areas of the building's interior.
For example, hospitals, banks, research labs, and many other facilities face a complex set of security concerns that require specifically programmed and scheduled access credentials.
Those positions may include:
Doctors, nurses and other patient care providers

Supply logistics, Cafeteria, Laundry services and other supplementary staff

Manufacturing employees on different shifts

Lab technicians

Visitors

Vendors, suppliers, service providers and sales representatives 
Another "interior" access control challenge we all face in the time of COVID is infection control. The more frequently access control devices are touched, the more possible it is to pass on bacteria and viruses. And the more often they're touched, the more often they need to be cleaned and sanitized, adding to operational labor and supply costs. 
So how can we maintain a safe and secure interior work environment without compromising user experience, operational efficiency or safety? 
There's a single solution that helps address each of these problems. 
California Commercial Security & Openpath Access Management 
Openpath (a Motorola Company), is a mobile access control system with scalable cloud-based software and endless integration capabilities. It was engineered to easily handle complex applications that may involve 3rd party connections. This solution is flexible, hands-free and can be used with a mobile app, encrypted credentials or guest passes for easy and secure access management. It even works with a smart watch! And the product's patented Triple Unlock Technology means a faster unlock, without ever worrying about connectivity with internet or cellular service. 
California Commercial Security is uniquely qualified to install and integrate Openpath products into your commercial facility. Following their enrollment and certification via the Openpath University learning system, our technicians are authorized to deliver a smooth installation from start to finish. 
Schlage Locks & Openpath Access Management 
Allegion, is a global brand with a portfolio of security companies that include Schlage, a leading manufacturer of physical security hardware products related to doorway applications. From commercial locks, door closers and exit devices to steel doors and frames. 
Schlage locking hardware has maintained a strong reputation among locksmiths for quality mechanical locking hardware. And now that level of secure locking mechanism is combined with the convenience and technology of a smart lock. When combined with an automated door controller–often associated with the Americans with Disabilities Act–access to areas can be truly "touchless."
Touchless Smart Locks
Openpath credentials can unlock Schlage wireless locks, with the touchless mobile app, encrypted key cards or fobs. This wireless solution can be deployed without installing extra hardware or wiring. 
A more scalable option for long-term cost-reduction. 
Access can be granted or denied remotely through the Openpath management platform. This intuitive user experience for management administration includes reporting for all entry events along with automated alerts. 
Your Cost-Effective Scalable Solution to Access Management
Smart, easy to use and scalable for the future with components designed to secure everything from a single door to multi-site enterprises. The OpenPath hardware delivers a cloud-based system of record that delivers best-of-class administrative control for your business.
Access Control Made Even More Powerful
California Commercial Security 
Integrating San Diego Security Systems for over 25 years. Providing customized, unique solutions specific to each commercial client, for any size needed. From Access Control to Video Surveillance and everything in between. Serving a variety of verticals and DEA & FDA compliant for health & life science applications.