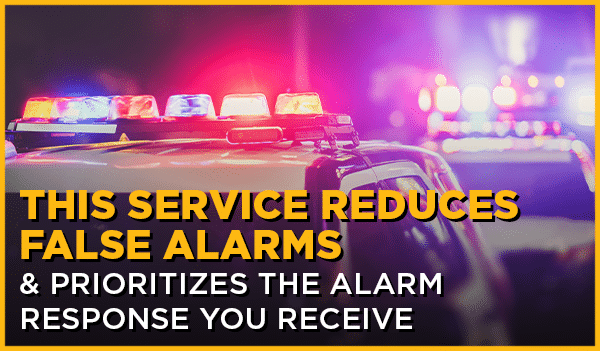 When you lock up your business for the night and activate the alarm system, you walk away expecting everything to be secure. In the event of a break-in, you expect the alarm to be activated, followed by an immediate response from local authorities, who should arrive on-site and resolve any adverse situations. 
Unfortunately, this isn't always the case. 
The frequency of false alarms and the lack of visual alarm verification may prevent the help you need from reaching you at a critical time, if they're even dispatched at all. 
False Alarms
There are several causes of false alarms. Some of those causes include:
Human error such as arming/disarming difficulties
Access points that weren't secured properly or left unlocked
Detectors/sensor devices that are too sensitive and activate on wind, rain, dust, dog barks or nearby construction work
When an alarm is triggered at your business location during a time it should be unoccupied, the central monitoring station will receive the alarm signal. The process for handling the alarm is to immediately call the first point of contact on your notification list. If there's no answer, they'll proceed to call the second person listed. 
The purpose of these calls is to determine if you're on-site and can rule out operator error or confirm a threat or danger. In the event no one on your notification list can be reached, local authorities will be dispatched. Depending on which municipality your business is located in, this scenario may be assigned a low level of priority, or not dispatched at all. 
Police Response & Threat Verification 
The Program Manager for the San Diego Police Department, Kyle Meaux, has stated that nearly 20,000 hours of police time are spent each year responding to false alarms. This amounts to a total cost of close to $2 million dollars. Not only are these numbers shockingly high, demonstrating a waste of valuable community resources, but these factors also make it difficult for emergency responders to address other situations where they're legitimately needed. 
For a business owner, the false alarm fine can exceed $500 per incident, with revocation fees going beyond $2,000. 
Some departments have changed their protocols to ONLY respond to verified emergencies. This is not only happening in the greater San Diego metropolitan area, but all around the country. 
Video Alarm Verification 
An active alarm requires human intervention to confirm the threat of danger. 
Video Alarm Verification pairs your video surveillance system with your alarm monitoring center. Live video feed from on-site security cameras associated with alarm events can be accessed by central station operators to determine validity and verify whether to dispatch or dismiss entirely. Adding another set of human eyes to your security system also delivers critical information from the scene that can be gathered by the monitoring agent and be passed along to responding officers.
Monitoring agents become empowered and better equipped to facilitate an accurate and swift response with the type of emergency, be it criminal, medical or fire, along with the precise location.
The primary benefit of Video Alarm Verification is a reduction, or elimination, of the number of false alarms. Other benefits include identifying the precise location of the threat, which is useful for alarms triggered in outdoor, fenced locations such as vehicle dealerships or larger warehouse settings with hundreds or thousands of square feet under management. 
Local law enforcement agencies see the value in Video Alarm Verification to minimize operational costs and prevent the wasteful use of precious resources. 
Enhance Protection Status: Additional security layer 
Faster Response Time: Get immediate confirmation of an intruder or other threatening event in real-time
False Alarm Reduction: Minimize the chance of fines, fees or other penalties 
Regulatory Compliance: Exceed your security status with growing emergency dispatch requirements unique for your municipality
For faster, more accurate response and greater protection for your business during the times you're not around, you need Video Alarm Verification. Video Alarm Verification products and services are essential to ensuring a prompt police response, as many police departments now only respond to verified alarms. 
California Commercial Security can integrate video alarm verification with your existing system giving you another layer of security along with video surveillance, access control, alarm monitoring and more.
California Commercial Security 
Integrating San Diego Security Systems for over 25 years. Providing customized, unique solutions specific to each commercial client, for any size needed. From Access Control to Video Surveillance and everything in between. Serving a variety of verticals and DEA & FDA compliant for health & life science applications.