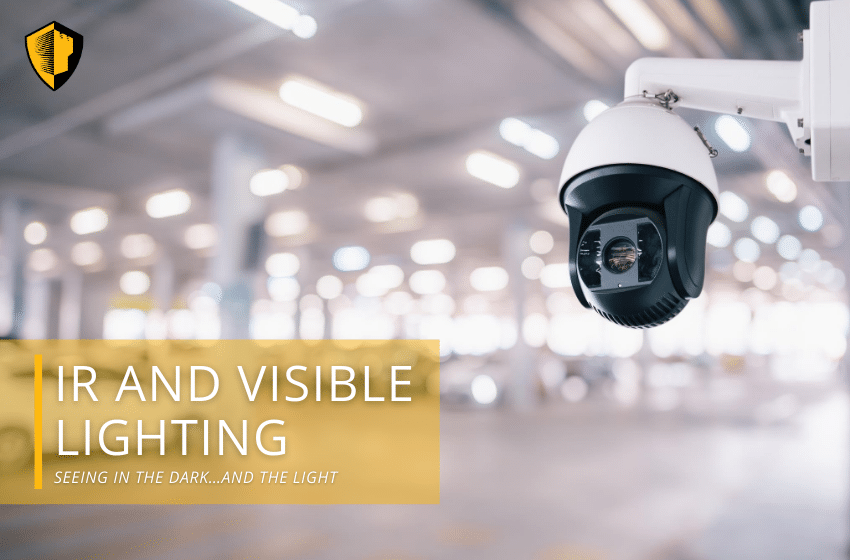 Video surveillance in areas with minimal light is a major concern for any installation, and many entry level cameras require sufficient ambient lighting to produce high definition/high resolution images. Of course, surveillance cameras are often needed in areas that may lack ideal illumination. Despite sensors optimized for low-light video recording, footage is often grainy and/or blurry, and may not yield useful forensic data. What can you do to make sure your security cameras can "see" even more than the human eye? Incorporating cameras integrated with infrared (IR) light illuminators or visible lighting systems are two solutions.
IR and Visible light: What are they?
Infrared (IR) light is light invisible to the naked eye. Through the application of some awesome science, security cameras are able to convert the effects of invisible IR lights into a wave-length that is visible to humans. This technology helps provide usable images in areas that can be partly or completely dark. Light is generated from within the camera using IR emitters or from a separate IR flood light. IR Flood lights are used to illuminate larger areas or subjects at a farther distance.
Visible light–as you probably guessed–is light that can be seen by the eyes. Most often triggered by a motion sensor, high Intensity white LEDs are paired with cameras as the primary lighting source for some camera installations. White LED illuminators effectively illuminate a scene for video recording, and also serve as an obvious visible deterrent to would-be intruders.
Which one do you need?
Choosing between visible light and infrared light depends on your specific needs, and the decision should be based on each specific situation. When you don't want trespassers and intruders to know they are being monitored, IR lighting may be the perfect choice. For example, if your business has suffered from a series of break-ins and nothing usable has been successfully recorded on your video system, then your surveillance system should be evaluated by a professional to determine if it is time to upgrade to cameras with IR illuminators. Most commercial grade surveillance cameras today are equipped with integrated IR illuminators and can record an intruder's movements.
High output LEDs and HIDs (visible lighting sources)  are effective intrusion deterrents. Most intruders will abandon an attempt on a well lit property and move on to a less protected target. Motion activated visible lighting systems are optimal in parking garages, fence lines and loading bays. They provide light for the camera and also for employees.
At California Commercial Security, we believe in partnering with industry leading manufacturers to design and integrate our security systems. We are an authorized dealer for Avigion, Milestone, and Hanwha Wave. Because most surveillance scenarios have their own particular needs, a professional's design assistance helps assure an effective combination is engineered and installed. Reach out to us today for a free consultation. Call (800) 286-2555 or visit www.calcomsec.com